[2004]
My husband and I agree that our favorite place is Death Valley in California. It is about 1 ½ hours away from Las Vegas. The first time we visited that place was at nighttime. It was not a good idea as there are very few lights and absolutely no civilization around. A man we met on the road said "Who needs lights when there is this big light (he pointed to the moon) to light your way". I fell in love with the place in the morning when we saw the sunrise among the mountains. We were surrounded by mountains and the hotel was the only civilized place for miles. Whenever we are here (we have been here 3 times after) it always feels that we are far away from urban life. When we retire (I mean when we do not have to worry about our kids entertainment, though they also have loved the hiking and the desert and the wildlife) this will definitely be the place we will come to rest.
If you ask my 11-year old son, he will say that the Everglades in Florida is one of his favorite spot. This is surprising as he must be 6 years old when we were bicycling on a trail there and were swarmed by mosquitoes and our only way to get out was to cycle fast at the same time swapping at the mosquitoes. On that trip we saw crocodiles just inches away from us. At Everglades it is very peaceful. My most memorable moment was at this place where everything was so quiet and peaceful and I just stood there against the railing enjoying the effect. I was looking at couple of lazy crocodiles and the turtles and the long necked birds. I remember taking a boat ride to go further down in the river to see the wildlife there. It was very peaceful and quite there. On our way back the dolphins followed us. The most adventurous thing we did was take a boat ourselves and went canoeing and us being between lots of birds. Thankfully we did not see any crocodiles. Everglades is fun.
 My 14-year old son would advise you to go to Puerto Rico. The water is so good with huge waves. The kids took surfing lessons there. We had this hotel, Villas Del Mar Hau, right on the beach. You can walk from your balcony right onto the beach. The kids loved the water and the waves. So did my husband. I do not swim but I was fully satisfied with my long walks, water gazing and my book. The food was great, my son could practice his Spanish, we saw a new culture and were happy to be among friendly people. We found a shop on the road which made our luggage much heavier then what we wanted.
[2016] 
Have visited Guatemala when Romil did his summer there at a village health clinic (2008). Loved the  mountains and the ponds in the mountain. Very green.
We have visited Peru (2004) also which I should mention here and loved the greenery of Machu Pichu
Egypt and Greece we visited in 1997. Nothing beats the history of Egypt and Greece.
When Romil was doing Scuba Diving we visited Cayman Islands (resort was cool), Honduras (loved the food) and couple of other beach places. We had gone to one of the islands of Indonesia and I will always love to remember the peaceful ride back on the boat sitting on top.
When Ruchir did internship in Singapore, we visited Singapore along with Cambodia (Ang Kor and learnt about their bloody past which has left only young people) and Thailand (walked and petted the tigers at the monastery)
We love to travel so much that we have sold our house in Rhode Island after the kids left for college and are on constant vacation. We go to India for five months to do our duty to parents and the rest of the time we are either with Ruchir (25 – houston) or Romil (21 – chicago) or somewhere in between US and India. On Dec 2014 we had a 45 day trip to Italy(relived our honeymoon)-Turkey(kids joined. saw mountain caves, walked up waterfall mountain, historical cities)-Jordan (the best was wadi musa tent sleeping in desert, petra was super specially the 1 km entrance)-Israel(old city was touching)-Dubai(fourth century buildings).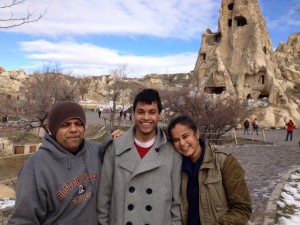 In November 2015, we went to South Africa and visited capetown (table mountain), Knysna (mountain, greenery and beach. We saw a mother and baby whale right from the shore), Kruger National Park (we drove ourselves to see the animals and were scared by an elephant who came marching at us and I had to back up for about 1/4 mile. Nothing beats the fun of driving around and seeing a leopard waiting for us by the side of the road) and to Lesuto village in Johannesburg to see tribal life replica.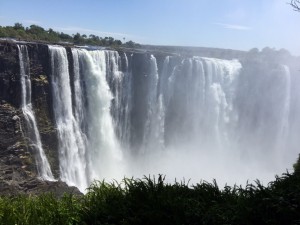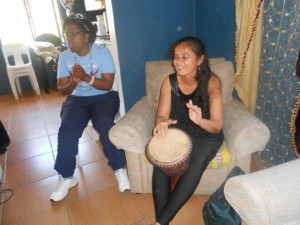 We also did a slight enroute trip to see victoria Falls in Zimbabwe. The falls were not in its full form but were still super. Would love to see them from feb to June when they are at their best.